Jurassic World: Dominion Dominates Fandom Wikis - The Loop
Play Sound
Thunderbird

Photograph and drawing of the Thunderbird.

Cryptid Information
AKA
N/A
Year First Seen
N/A
Biological Class
Avian
Authenticity Status
Real
Location
United States
Native American legend speaks of a Thunderbird, an enormous flying creature with a wingspan more than twice the length of a war canoe (approximately 20 feet). According to myths from Pacific Northwest, Plains and Northeastern tribes, the Thunderbird was actually a god in animal form, and the thunderous sound of its flapping wings was meant to scare humans away from its territory. Although many stories claim the Thunderbird's favorite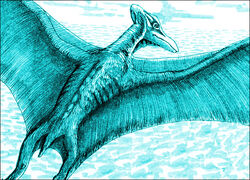 prey is the killer whale, other myths from the Illini tribe depict these monstrous birds as vengeful hunters, prone to grabbing children in their talons and carrying them away to kill them.
Some cryptozoologists today compare thunderbirds to pterosaurs, giant birds of prey that roamed the skies 115 million years ago. 
Even before the turn of the 20th century, a group of cowboys in the southwest United States claimed to have killed an enormous bird, which they nailed to the side of a barn and photographed (the photo has since been lost).
In July 1977, a boy from Lawndale, Illinois claimed to have been attacked by a giant bird, which clamped onto him and then lifted him for a distance of at least 30 yards. He managed to escape unharmed. Other sightings of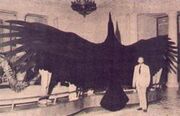 enormous birds in New Mexico, Alaska, Texas and Pennsylvania have been reported in recent years.
But some think the witnesses may simply have misjudged the birds' size. The largest scientifically recognized bird in North America is the California condor, with a wingspan of up to 10 feet.